Working together
- our goals are one.
Working together
our goals are one.
Follow One Florida Bank on LinkedIn or Facebook to stay up-to-date with current events and successes throughout the year.
Paycheck Protection Program Update – January 2021 
The latest round of economic relief for small businesses through the Paycheck Protection Program (PPP) is here, and we're closely monitoring all developments. The SBA has opened acceptance of applications in stages, and we'll be ready to accept applications on Tuesday, January 19th. Funding will be available for new borrowers as well as those that had participated in the PPP last year. Please contact one of our One Florida Bank Relationship Managers for further details and to start your application. 
We look forward to assisting our valued customers in this next phase of assistance and helping potential new customers. Our approach will be the same as always: serving our local community with local bankers navigating the loan process with personal service and guidance.
Introducing All-New Online Banking
On Tuesday January 12, 2021, we launched an all-new digital banking suite bringing an all new look and feel that's seamless between environments with new features.
With your new One Florida Bank Online and Mobile Banking, you can:
View balances: Quickly check your account from anywhere
Manage transactions: Search your recent activity, filter by tags, even add an image or note to an entry
Transfer funds: Initiate one-time, future date or repeating transfers
Make payments: Make person-to-person or bill payments from any device
Deposit checks: Snap a photo of any check you need to deposit
Get alerts: Receive push notifications and alerts to stay in the know when transactions occur based on your customized settings
Manage your debit card: Manage your debit card from your phone. Can't find your card? Turn it off until you do or report it lost if you don't! Traveling out of the United States? Set your destination to allow your debit card to be used more freely in a foreign country.
View statements: Monthly statements are available at your fingertips
The online banking update at www.onefloridabank.com took place automatically with no action required by you. You can log in with your existing credentials. We're introducing multi-factor authentication to help protect your accounts. You can select the method for authentication when you log in.
If you currently use our mobile banking app on your iOS or Android device, you will be prompted to download the new app when you open the old app. Just follow the link to download the new app to enjoy the comprehensive new features. Please note, this is not an update – it's an all new app!
Download the new mobile app now:
Important notice for Legacy Microsoft Edge and Internet Explorer users:
The Microsoft legacy browsers are being phased out by Microsoft.  As of January 1, 2021, One Florida Bank online banking, Treasury Management and electronic statements will no longer support the Internet Explorer and legacy Microsoft Edge browsers due to information security weaknesses. We encourage users to switch to the NEW Microsoft Edge or another updated browser such as Google Chrome.

Celebrate National Cyber Security Month by Staying Safe
Americans lost $1.9 billion to phishing and fraud in 2019. Staying safe and secure is more important than ever.
"Phishing" and online scams are designed to confuse you by looking and sounding official. Your One Florida Bank relationship banker will never call or email you to ask for personal information.  When in doubt, call your banker or branch directly. 
You can learn more about phishing, common fraud tactics and what to do if you've been targeted by reviewing these helpful tips by
clicking here
.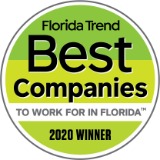 BREAKING:  Florida Trend names One Florida Bank one of the state's "Best Companies to Work for"!
Our bank was named in the Top 10 for Best Midsized Companies to work for. We are so proud of our team for helping us build a place where relationships matter.
We're Nominated as a "Best Business"! 
One Florida Bank was nominated for the 2020 Seminole Business Awards. We're proud to be named among Seminole County's best businesses. Thank you, Seminole County Chamber of Commerce, and congratulations to our fellow nominees. 
One Florida's Success with PPP Loans Recognized by Business Journal
Our team was honored to help our clients keep their workers employed during this trying year by working quickly to process PPP applications. The Orlando Business Journal featured us and our president, Rick Pullum on the steps OFB took to effectively process those loans.
How this bank is processing PPP loans quickly as demand grows.

"We have assembled a dedicated task force of lenders and closing specialists and documented procedures to handle the volume of PPP loan closing we will have in the coming weeks. We have formulated documents using SBA forms and guidance to ensure we close them timely and compliantly with SBA requirements."

Click here to read the full article. (paywall)

Other news stories: